In celebration of this annual holiday, Jollibee Bacolod Halloween Express for kids was held at the Ayala Malls Capitol Central. Hundreds of kids from around Bacolod City wore Halloween costumes and joined in the fun!
Jollibee Bacolod Halloween Express
Once a year, the Jollibee stores in Bacolod come together to hold a special Halloween party for kids. They usually hold it in a big venue that can accommodate hundreds of kids.
And this year, the party was held at the Ayala Malls Capitol Central in Bacolod City. It was a fun outing for friends and family alike.
After our stint at the Stonehill Suites Halloween Party for kids, it was a challenge to come up with new costumes. After some thinking, we just made use of what we already had. Achi Shawna decided to go as a cowgirl, complete with 3-inch Nine West brown boots.
Meanwhile, Shane was, guest what?…a unicorn princess. Their BFF Cody went as Captain America.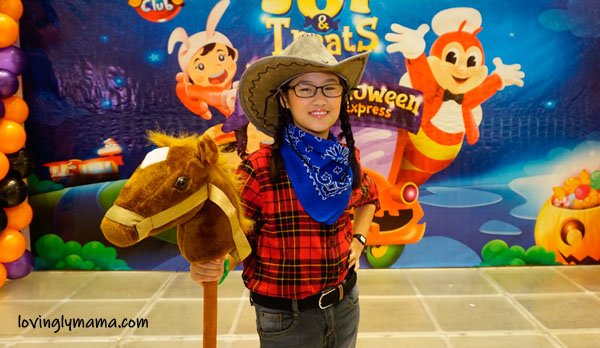 The event was opened with games where the kids got to win exciting prizes consisting of Jollibee premium merchandise. Additionally, even the early birds for the registration were recognized and awarded with prizes. Then they had snacks of Chicken Joy meals and juice.
Best in Halloween Costume
A parade of costumes was also held. The kids were divided into groups and each one had a ribbon of his or her team color tied on the write. It was a way to somehow give order to the crowd of kids.
Some came as cute characters or superheroes, while some wore whimsical costumes. There were those who went all out as fantastical or scary creatures. Moreover, there were others who came as monsters, zombies, ghouls, and such.
The some of the best costumes were chosen and awarded with Jollibee premium items. All the winners went all out with their costumes, makeup, and props — all deserving to win!
Jollibee and Friends
The highlight of the Jollibee Bacolod Halloween Express was the appearance of Jollibee and friends. Since it's a special event, the gang was complete.
Who are Jollibee's friends? Jollibee was joined by Hetty, Twirlie, Popo, and Yum. And they danced to several songs. Millions of Filipino children have grown up loving them.
Afterwards, the kids joined in the group picture with Jollibee and friends. On their way out, the stars of the show spent time mingling with the kids. Of course, the little ones as well as the parents were delighted.
Giveaways and Freebies
At the end of the event, the kids went home with candies, a Jollibee toy, balloons, and souvenir shots from the photo booth.
It was a fun and happy party for the kids that seemed like a birthday party. While there were some scary costumes, it was more fun and exciting than frightening. With the Jollibee crew, it was like attending a friend's party!
This was our first time to join the Jollibee Bacolod Halloween Express and we had fun! If we are going to join again next year then we should really prepare our Halloween costumes for kids early! Furthermore, we need to prepare better if we want to compete. haha
19 Jollibee Stores in Bacolod
To date, Jollibee now has 19 stores in Bacolod City alone. They celebrated this milestone with a parade float that joined in the 2019 Masskara Festival.
Meanwhile, here's the list of Jollibee Bacolod stores.
Please follow and like us: