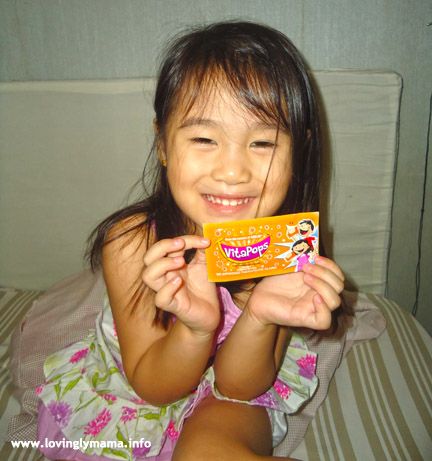 When Dindin was a baby, I used to give her drops of Vitamin C (ascorbic acid). When she got older and got sick quite often with cough and colds, I had to increase her intake of Vitamin C.
But since ascorbic acid is ascorbic acid is of course, acidic, I could not give her more than the recommended dosage or she might get hyperacidity at such a tender age.
So instead, I would dissolve a different form of Vitamin C called Sodium Ascorbatein water and let her drink the solution every few hours throughout the day. It is not acidic so it is safe. I just open a capsule and dissolve a small part and give it to Dindin.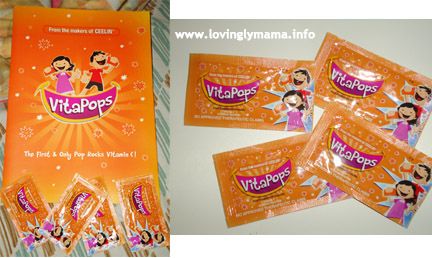 That is why when Unilab launched its newest product called VitaPops, I was so happy to learn that it is sodium ascorbate in the form of a fun, chewable popping candy! "We, at Unilab, are excited to introduce this vitamin that will definitely make taking Vitamin C a fun, memorable experience. VitaPops is the first and only pop rocks Vitamin C in the country," shared VitaPops Product Manager Joseph Aruta.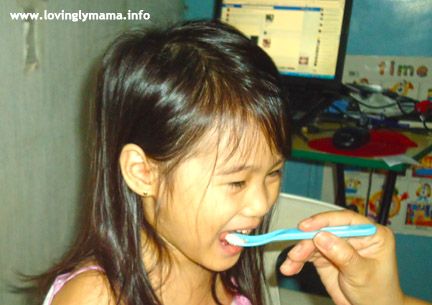 VitaPops comes in a single-serve sachet that contains 50 mg of sodium ascorbate. It gives more than 100% of the daily recommended allowance for children ages 7-9. It is fun because it tastes good and when the rocks touch the tongue, they fizz and pop, so children find them interesting. It is safe and the only precaution is for children who are under a sodium-restriction diet because each sachet contains 8 mg of sodium (Na).
And while VitaPops come in candy form, it only has 1/5 of the sugar content of regular vitamins. With a lot of kids having too much candy, this is one candy that parents would love giving their kids. Aside from having no problem administering it to their kids, VitaPops boosts the immune system and protects your children from common diseases.
So mommies out there, instead of buying those pricey imported popping candies that give nothing except sugar and tooth decay, give your kids VitaPops. It is available in leading drugstores nationwide and retails at P10. You can give it once or twice a day. But if your child seems to be going down with something, then give three times a day–it may be the boost that their immune system needs to combat sickness.