It has been more than one year now since the Covid-19 pandemic broke out around the world and we are still nowhere near the herd immunity that we are dreaming of. Every day is a battle and what we are doing is basically staying healthy and surviving the pandemic. However, there were also good things that happened (in spite of) in our family and my personal life. So I am keeping tabs.
We Went to Bed One Night and Woke Up to a Different World
On the morning of March 16, 2020, Monday, the streets around our building were eerily silent. Living in a commercial area in the metropolis for decades meant that vehicular sounds were ambient noise. While the streets were quiet, social media was ironically noisy and ablaze because people were complaining about canceled plans. That was the first day of the rounds of community lockdowns all over the Philippines in the light of the global Covid-19 pandemic.
Restrictions were set, checkpoints were put in place, and a curfew was imposed. Streets were deserted and only uniformed military, policemen, and healthcare personnel were mostly allowed to go around. It really felt that doomsday was coming.
The Saturday before that, our family still attended a children's party because it was the birthday of a co-homeschooler here in Bacolod. Days before that, hubby and I still traveled to Iloilo for a one-day event. In all these instances, we didn't wear facemasks, and the thought that we might have encountered somebody with the virus and that we brought it home was mentally exhausting.
Thankfully, we survived that, and ever since we have worn our facemasks and shields when going out. These are not just to protect us but also to protect others in case we are asymptomatic carriers. Furthermore, these protected us from other airborne infections, because we needed to keep our immune system in tip-top shape.
How We Survived: Physically Well but Emotionally and Mentally Scarred
With our business closed for two months, we were safe behind our walls but we couldn't help but wonder what life would be like afterward. We had hoped that once the lockdown is over, we can already go back to our normal lives.
When we re-opened our business two months later, our family held a meeting amongst ourselves and our staff (both stay-in and those who go home to their families daily or weekly). We noticed that not everyone was strict in implementing safety protocols. Everyone had different thoughts about the pandemic and was very active in voicing out their opinion. Honestly, we had difficulty getting through to our employees at first.
It was just so hard to get them to realize that in the light of the pandemic, it's okay to be OA. Being careful to the point of being paranoid went a long way in keeping us all safe. Rubbing alcohol (70%), disinfectant footbaths, handwashing, face masks, and shields were all part of our routine around the building.
We also obeyed the rule of the community that young people below 20 years old and senior citizens above 60 years old were not allowed to go out to public places, unless on necessary errands—like going for a check-up or buying medicines. Only my sister-in-law is doing most of our errands, therefore risking her safety every day. But we had been the most law-abiding and cooperative citizens, doing our part to end this pandemic.
Like everyone else, our business suffered during the early stages of the pandemic. We have no choice but to close down for many weeks in order to follow safety protocols, as mandated by the city.
When restrictions were eased, we resumed business but with safety measures in place. We no longer allowed customers inside the store but instead opened a counter where we can transact business. A plastic barrier was also installed to keep the staff from face-to-face interactions with the customers.
All these made our sales suffer because customers can no longer just roam around the store and see what we have in stock. It also alienated some of our suki (frequent customers), who were so used to us being a neighborhood store and would often chat with my father-in-law about business and life inside the premises.
But since we do business in the same building where we live, this was a sacrifice we had to make for the sake of the safety of the whole family and our staff—especially for my in-laws who are already blessed with so many years. We cannot put them at risk.
Despite all of these setbacks, our gratitude to High Heavens is outpouring because by the grace of God, we have all been spared from the dreadful virus and we are still earning to keep us all afloat.
Why the Emotional Scars
One night in May 2020, while our children were sleeping peacefully and my husband was resting beside them, I thoughtfully looked at them. Maybe it was hormonal fluctuation or the anxiety about the pandemic, tears flowed freely. I couldn't hold them back, as melancholia flooded.
The biggest questions were:
What will happen to my kids? What does the future hold for them? Is there even a future for them after this episode, if ever we survive the doomsday scenario created by the global pandemic? Is this really the end of the world?
I whispered a prayer to God and my emotions settled. As new thoughts came over me, I mentally took note of this very personal message:
Note to Self: Do not overthink about the future because you cannot do anything about it. Instead, focus on the present—what you have and what you can do.
It was a short time of connection with God but the effects on me were life-changing. I turned the wheels on my head and since then re-focused my efforts on my blogging and writing, homecooking, gardening, and spending time with the family.
Instead of joining others complaining on social media about every issue under the sun, I strengthened my social media presence so that I can share valuable and factual information that can help keep families safe and contribute to ending the pandemic. Moreover, I also tried to come up with sardine meals and other budget meal recipes to help keep the average Pinoy with extending whatever they have in their pantries during these difficult times.
Note to Self: Cheers to us who have fought and won battles that only we know about.
That late-night episode was the first and last during this pandemic. After that, my life changed and my efforts were rewarded. Who would have thought that I would end up with three blogging awards—all during the pandemic?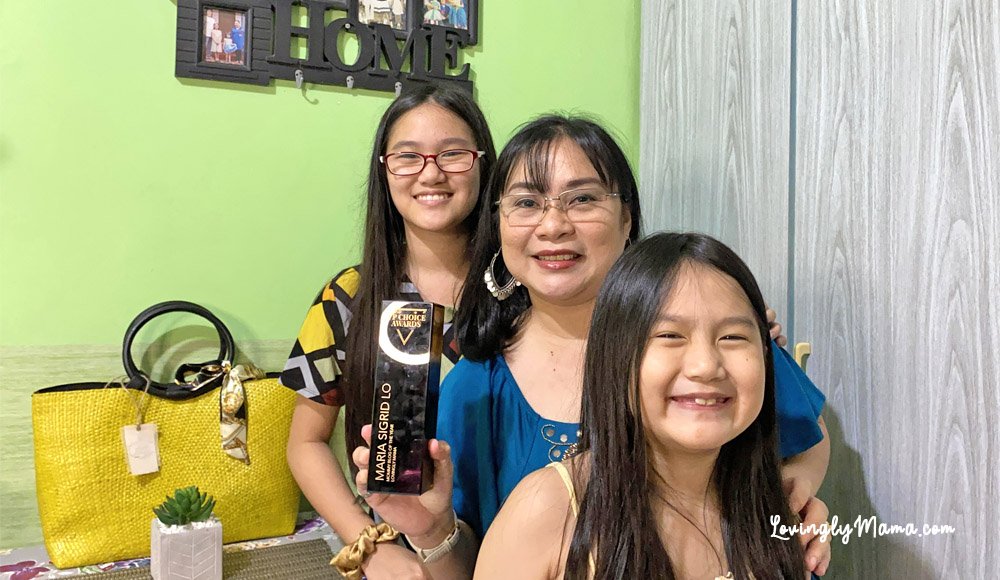 Imagine that: I never would have expected that a stay-at-home mom like me could make such an impact on society during the pandemic?
But despite the positive things, there are still invisible scars brought about by the pandemic.
Here are some of them.
Distance
We had to keep ourselves safe and the best advice we got from doctors was to consider everyone suspect (of being a virus carrier). Despite not having symptoms, anyone could be an asymptomatic carrier. If ever we got to talk to someone else, we wore our face masks, like when receiving deliveries.
Moreover, we avoided gatherings, like birthdays, weddings, funerals, and even small group fellowships because everyone takes off face masks while eating (naturally) and talking. It just feels uncomfortable, knowing that we are putting ourselves and our family back home at risk. The lesser the exposure, the better.
But because of this, we have physically distanced ourselves from many family members and friends. All we have are messaging apps so that we can connect with virtually.
Debates
Just like the last presidential elections, the pandemic has divided people. There are people who are extremely paranoid about the pandemic and refused to go out even for necessities. Then there are us–people who took all necessary precautions and stayed at home if there are no necessary errands. And lastly, there are the people who are against the vaccines and those who deny Covid and are refusing to wear face masks.
Personally, I am advocating to get vaccinated against Covid-19 so that we can develop herd immunity as a country and eventually get back to normal. However, I respect those who do not want to get vaccinated because it is something invasive and they can decide what to have in their bodies.
What I cannot understand are those who are refusing to wear face masks because they feel that the coronavirus is just like any other flu virus that can be cured with simple home care. What is worse is that they feel that that the deaths are caused by the wrong management of doctors and hospitals. Wow! Honestly, I cannot wrap my head around those conspiracy theories and I feel ashamed for the doctors and researchers who work tirelessly to put a stop to this global chaos.
Many relationships have been affected because of these extreme stands about this pandemic that erupted in online debates and ended in severed relationships offline.
But for me, it is better to be safe than sorry. I have a family to think of and I don't want to put everyone at risk. Even if the family survives, the trauma and anxiety, as related by friends who are Covid survivors, can be overwhelming. Additionally, there are medical expenses that we have to think of. So I would rather stay away from people, and even businesses, who are taking this pandemic lightly.
Death
There came a point that I avoided going through my Facebook newsfeed and instead focused on my Mommy Sigrid on Instagram account. It was so depressing to see friends continually posting black boxes or candles as profile pics because they lost a loved one. I avoided the news not because I don't want to sympathize but because I just couldn't bear the losses. The premature deaths were just so heartbreaking and too much for my mommy heart to handle!
Furthermore, it cemented the fact that Covid is sooo real and sooo near! Just last week, my first cousin died from complications due to Covid-19. That is why I could not understand why there are still groups of people denying it!
Denying Covid-19 is an affront to healthcare workers, other frontliners, victims, and families who lost loved ones. Let us be more considerate and kind.
Surviving the Pandemic and The Good Things That Happened
Despite everything, including the rising cases of Covid-19 positive patients here in Bacolod City (2000+ active cases as of this writing), I am more relaxed nowadays.
Looking back, I focus on the good things instead of the things that could have been. There is just no point anymore.
If there is anything that I am most thankful for is that we have always been a homeschooling family. Even with the problems around us regarding the shift to online schooling, we just continue with our usual practices.
Family is Strengthened
Since we stayed at home practically holed up in our bedrooms, we got to spend a lot of time together. Talking, playing, watching TV together, and just goofing around strengthened our bond. This is also especially true in our marriage. While hubby just works in the building and I can easily talk to him, having him beside me all day was actually refreshing.
One thing that I really appreciate was the time spent with our eldest daughter in the kitchen. Teaching her to cook did not only impart basic culinary skills to her but I believe that she appreciated the fact that I spent more time with her. We needed this bond because she is soon going to be a teenager and parenting by that time will become an entirely different ball game.
Achi Shawna is already 12 years old. She was the last family member to have a birthday party held with friends at the salon on March 7, 2020–a week before the lockdowns.
Faith is Reinforced
Every night, we pray as a family before the kids go to sleep. Sometimes, they say their own prayers. I am really amazed with how the children have grown spiritually in this pandemic. Their prayers no longer included what they like or want but rather for the protection of the family, our staff, and the health workers and other community helpers working against Covid. They are praying for healing for those who are sick and for a solution to this pandemic. With that, my mommy heart is glad.
Friendships Were Formed Among Former Strangers
Many campaigns and movements were launched during the pandemic and these have one common goal–to help in the fight against pandemic. Some of these people organized themselves to put community kitchens to feed frontliners in hospitals, checkpoints, and other necessary service departments.
The barter movement was also very strong last year and it really helped many people who were in need of daily supplies and those who were short on cash.
Frequent Feastings
Since business was at a standstill, there was no work and we cannot go out, I was in the kitchen often!
I thought, how glum it would be to stay at home and to keep eating the usual stuff made by our in-house cook. This was especially true for my in-laws who used to enjoy restaurant dinners from time to time or meetings and church fellowships over their favorite food.
To help ease the boredom, I brought it upon myself to cheer up everybody with restaurant-style cooked meals. I have come up with different dishes from Chinese, to Korean, to Greek, to Japanese, to Filipino, to American, to Italian, and even homemade gelato.
There was even one time that our youngest Shane made me cook an Irish-style roast chicken. You wouldn't believe the things I have whipped up in the kitchen during lockdown — all for celebrating every day that we are happy and healthy.
Cooking became both passion and therapy for me. It helped me cope with the stress and anxiety of the pandemic, plus, it made the family happy. These are just some of the dishes I cooked during the 2020 lockdown.
Financial Management
We have become more prudent with our finances. At the height of the lockdowns when income and supplies became scarce in our community, people were forced to be ingenious. The Barter movement was born out of a need to dispose stuff in exchange of much-needed supplies.
People have realized that a lot of the things that we have are not NEEDS. These things are mere things that add to our collection but would not help us during survival mode.
Since people stayed home most of the time, we were able to declutter and barter. Our homes became cleaner and more organized plus the activity gave us respite. It kept us busy and plucked us out of the foreboding dread brought about by the pandemic.
Fresher Air and a Freer Spirit
I believe that many people have gone through personal retreats during the pandemic. There is nothing like a doomsday scenario to make us think of the things that we give importance to.
Since we can no longer travel, we stayed at home and pondered. The slowing of land, sea, and air travel as well people taking on gardening has helped improve our air quality. You can just imagine the carbon footprint of jet planes, cars, ships, and buses plus the people going around the world.
And since we were stripped of social media posts that encourage YOLO and FOMO, our minds and spirits have been freed with a lot of things that we usually clamor for.
Moving Forward and Surviving the Pandemic Everyday
Even if conspiracy theories are right that this pandemic is man-made and the number of cases is "doctored", for me, these don't matter. The fact of the matter is, this coronavirus is wreaking havoc around the world and the damages are real.
As common citizens, my hubby and I are also very tired already. I am an introvert and the stay-at-home setup has become very comfortable for me. Even though they miss swimming, the kids actually enjoy staying safe at home because they understand the pathology of the virus. Several times, I had to bribe them with something that they like to eat just so they would come with us for a drive to a nearby open space for some fresh air and a change of scenery.
But sometimes, I have to remind myself to continue to be a productive citizen of our society — to live and not just to exist for the sake of surviving the pandemic.
We do miss our family trips with the kids as well as the freedom of being able to go out at will and have playdates with other homeschooling families. So I would like to enjoin everyone to take part in the effective solutions presented to us so as to get back to a semblance of normal at the soonest possible time.
Our family is being a part of the solution and every family should have a mentality of healing and cooperation like that so that our world will heal faster. Let's all move forward.
************
This story is an entry to ComCo Southeast Asia's "Write to Ignite Blogging Project Season 2: Dear Survivor". The initiative continues to respond to the need of our times, as every story comes a long way during this period of crisis. The initiative aims to pull and collate powerful stories from the Philippine blogging communities to inspire the nation to rise and move forward amidst the difficult situation. The "Write to Ignite Blogging Project" Season 2 is made possible by ComCo Southeast Asia, with Eastern Communications and Jobstreet as co-presenters, with AirAsia and Xiaomi as major sponsors, and with Teleperformance as sponsor.
Please follow and like us: