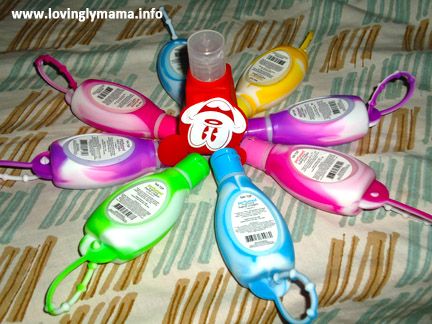 Christmas is fast approaching and we thought of giving some tokens to our co-workers. Technically, we call them co-workers because we are also working in the store of my in-laws.
So we went to SM Department Store of SM City Bacolod and we bought a total of eight hand lotions. We thought of giving these away to them for Christmas. Just a token for them, as we really did not have a big budget for this. We also just want Dindin to be able experience giving gifts to others.
Sparking Creativity
Anyway, we just arrived home and I took out the items from the shopping bag. The next thing I knew, Dindin had played with them and she has already formed them into a flower (pictured above). hihihi Isn't her arrangement cute?
Yeah, she has this penchant for forming new things using ordinary materials that she finds lying around in the room. She has this creative eye that can see things from a different perspective and she can make nice things out of them.
That is why I had to take a photo of this. It is just soooo nice to pass up. 😀 And look, they are in perfect symmetry. haha So OC.
This is one of the reasons why we are planning on a homeschooling journey for her and other future kids. We want to let her pursue her passions and inclinations without the pressures of school. It will also be perfect for our traveling lifestyle.
How to Wrap Them
Right now, I am wondering how we should present these hand lotions as gifts. Will we still wrap them or do we just tie ribbons and attach note cards on them? I still can't decide. hihi
Maybe, I should just ask Dindin. She's the more creative one, anyway. What do you think: